Walk With Confidence
B&B walkers are bonded & insured following successful completion of our on-site canine handling training program. A B&B Dog Walker is someone we have seen excelling in interactions with dogs and parents compassionately and professionally without having to be micromanaged. If you see something or have a concern, please call Client Care where your feedback will be handled anonymously, directly, and discreetly.
Safety Is Our Priority
All pups on a B&B walk are fitted with two slip collars, attached to a reinforced nylon leash, clipped into a screw-lock carabiner, worn on a climb-spec harness, secured to your B&B dog walker. B&B walkers walk no more than four dogs of the same size & temperament at a given time. With over half a million walks done annually, our track record has set a high standard for the industry!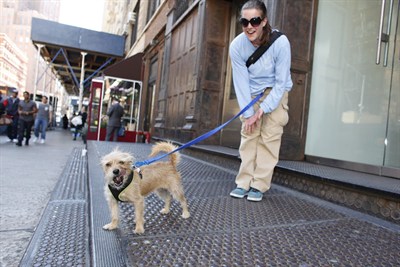 There When You Can't Be
Rain, sleet, or snow…morning, noon, or night…weekday or weekend expect a knock from your B&B walker. If your B&B walker is ill or on holiday, B&B will find your pup a substitute walker. Does your dog need food, medication, or a solo walk? Let us know how we can cater to your special needs. Enjoy walks with one easy monthly payment, a two hour window, and keys with your doorman or locked securely at your B&B location