Senior Wellness Tips By Casey Kantarian, Senior Behavior Counselor

It's another joyful blog to help continue to foster the desirable connection and communication with you and your dog for as long as you can! "Dogs' lives are too short. Their only fault, really"- Agnes Sligh Turnbull.
During today's blog we will discuss ways to keep your dog healthy and living as long as possible! As dogs grow older, they start to have less energy, greater risk of health and mental problems and fragile joints just like humans do. It is very important that as your dog becomes a senior dog, to visit the vet for a check-up twice a year instead of the typical once a year. Catching an early sign of health problems is very beneficial in the quality of life for your dog.
Tips to improve your senior dog's quality of life:
Mental Stimulation
Mental stimulation keeps the mind active, prevents muscle fatigue and reduces pain. Dogs of any age could benefit from mental stimulation games. In the human world, this is similar to doing crossword puzzles, word games, and yoga.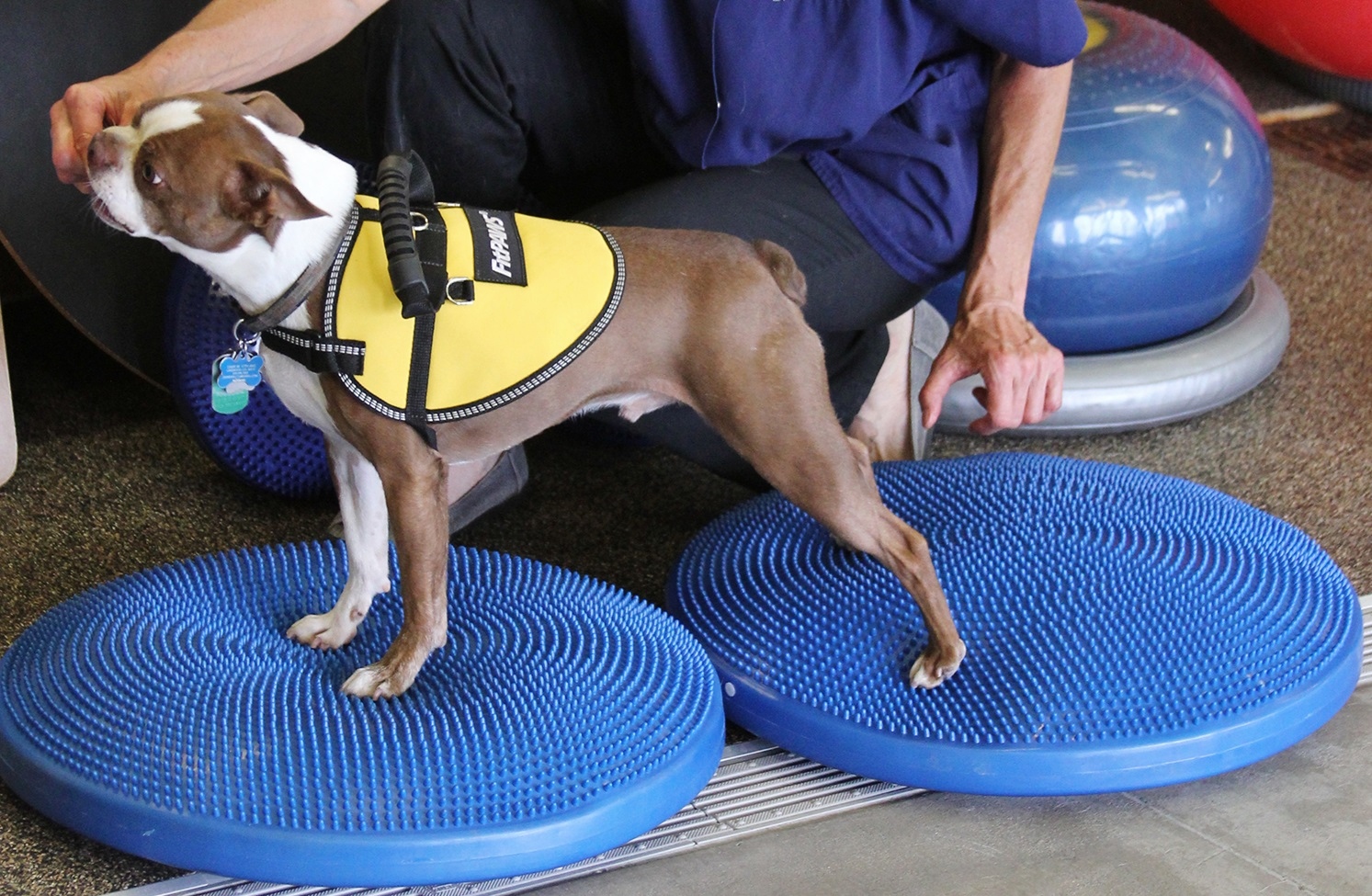 Have your dog isolate his/hers paws and balance on a balancing disc, fit bone or fit paws. Dogs of any age can increase their mental stimulation by using one or all three exercises. These exercises not only provide mental stimulation but also help build confidence in your dog. Additionally, they can help to reduce the risk of injury to your dog's fragile bones.
Teach your dog to put his/her front paws up on one of the three items. To set your dog up for success, it is easiest to start with the balancing disc, then the fit paws, and lastly the fit bone. Lure your dog with a treat or their favorite toy onto one of the items and reward them for putting their front paws up. First one, then two paws. Once they understand this game, ask your dog to isolate his paws (learn rear end awareness). Then ask your dog to do the same thing, except with her/his back paws. Think about balancing on a small item that moves. This is working your mind, and abs all at the same time!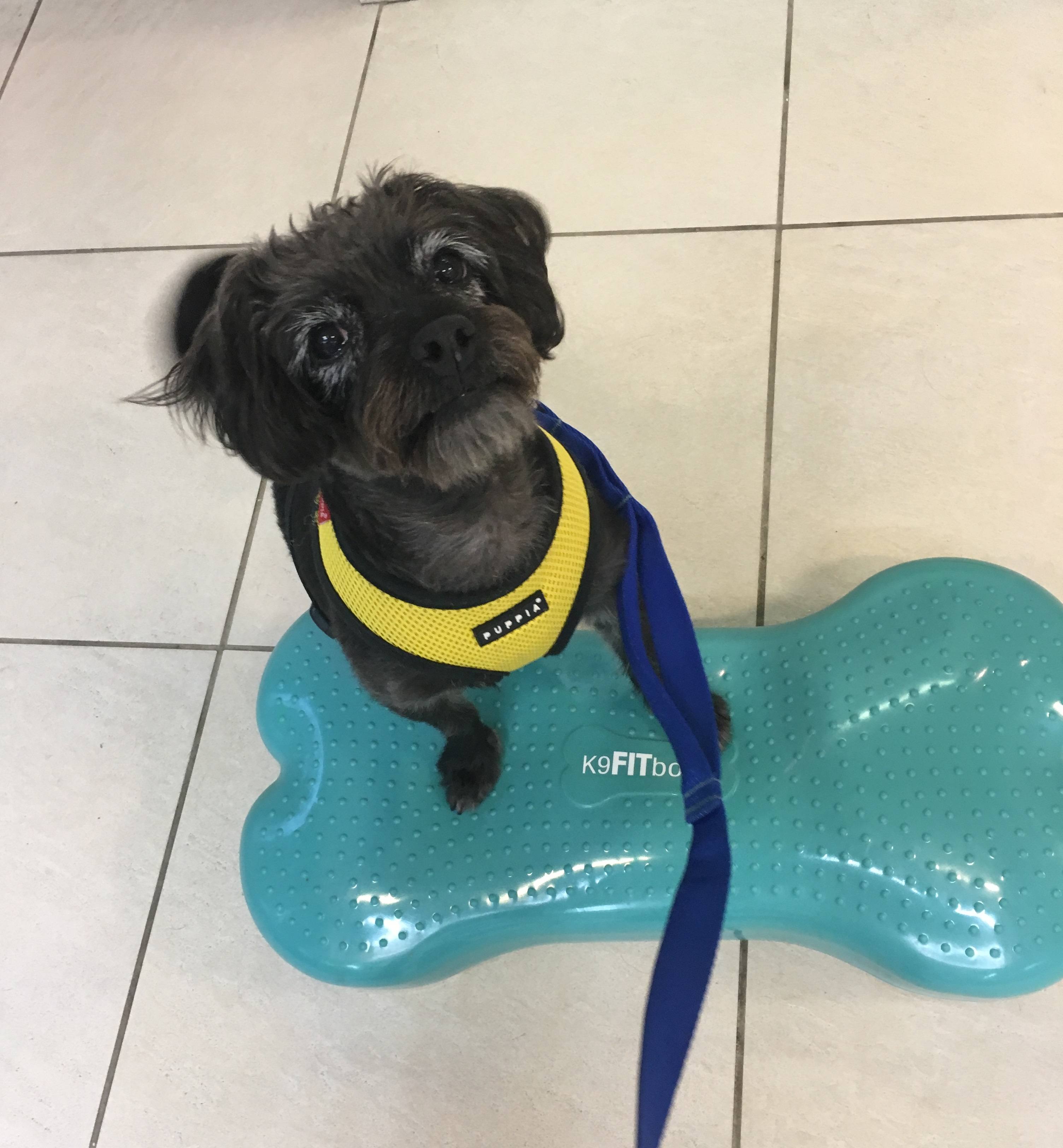 Dog's move like cars. The front paws steer the body and the back paws are just in it for the ride. Ask your dog to put his front paws up on one of the objects and then step around it with her/his back paws. Before you try one of the three equipment products, consult with your vet to make sure it is safe for your dog's joints.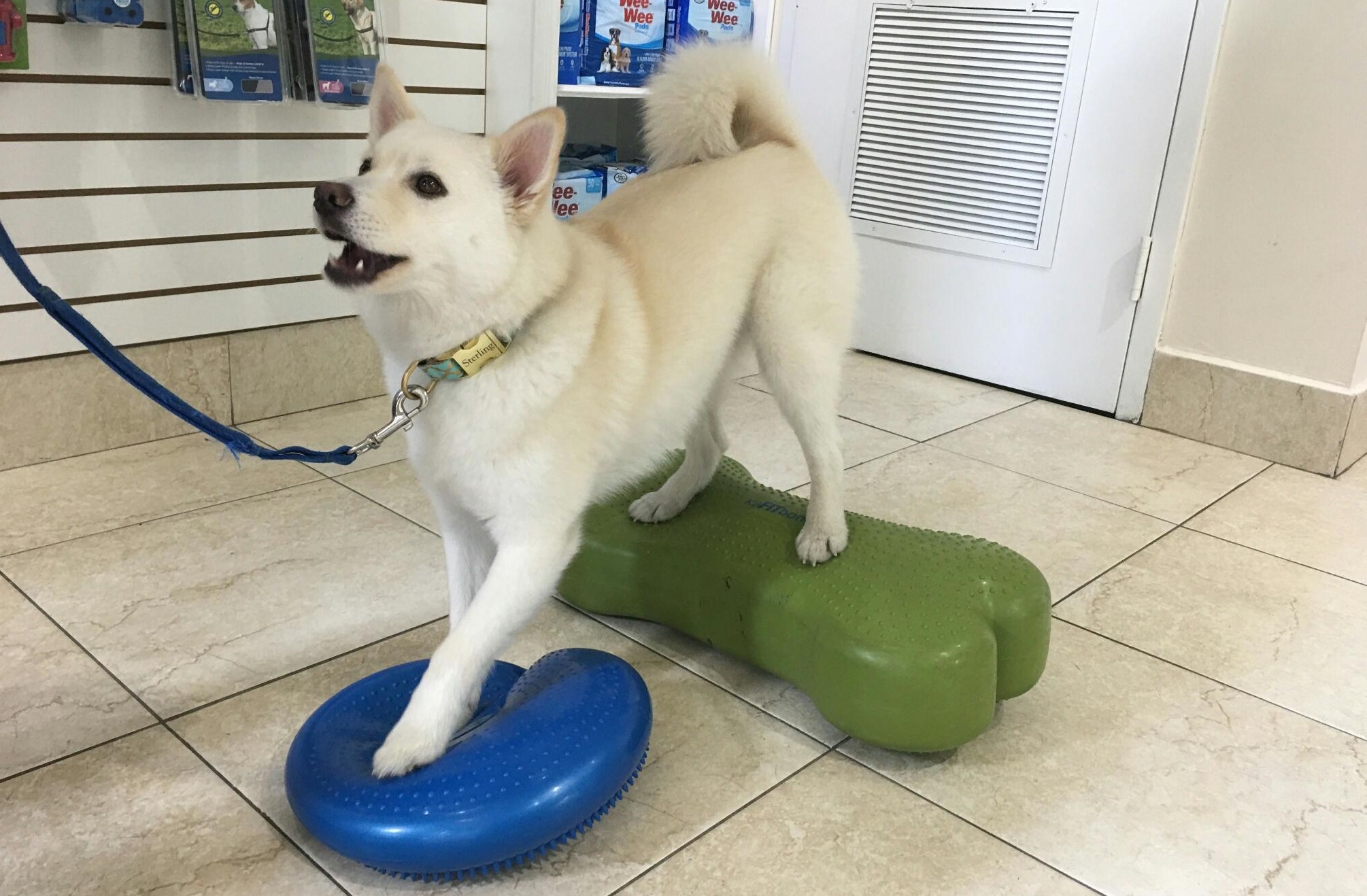 Ever wonder if you can teach an old dog a new trick? Meet our trainers and start with some nose work activities and puzzle games. If your dog is slowly losing their eye sight due to old age, this is a great game to build your dog's confidence, stimulate their mind and keep them active. First, let your dog watch you hide a treat in your hand or in a small container with holes. Once they paw at it, reward them with treats. Then start hiding the same container under a blanket or under furniture. It teaches your old dog a new trick, builds confidence, stimulates the mind and teaches them to use their sense of smell.
Exercise
It is important to maintain consistent exercise. Just because your older loves her/his nap time, does not mean they can skip out on daily walks. Lower the risk of your dog from diabetes, becoming overweight or  having hip and joint problems. Multiple short walks for about 10-20 minutes makes it easy to get your dog out and the blood flowing.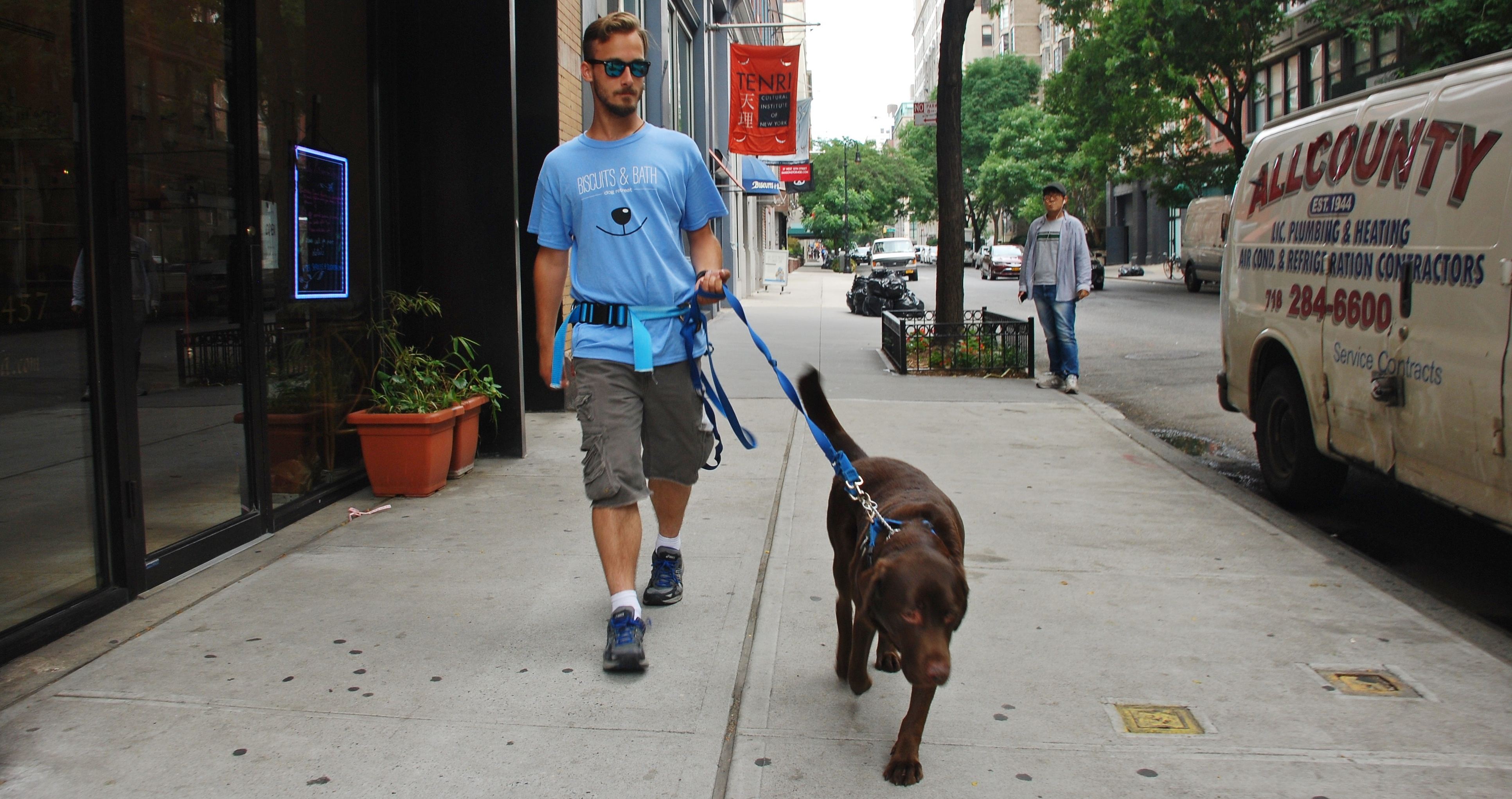 Water Therapy
Does your dog have a hard time walking? Is your dog in pain? Water therapy exercises the brain, body and blood flow. For dog's, this is very similar to water aerobics for humans.
Even if your dog is the healthiest dog, water therapy is a great preventative measure to ensure your dog's muscles and joints stay healthy and strong. Water Therapy is especially helpful for dogs who recently had surgery and dogs suffering from arthritis.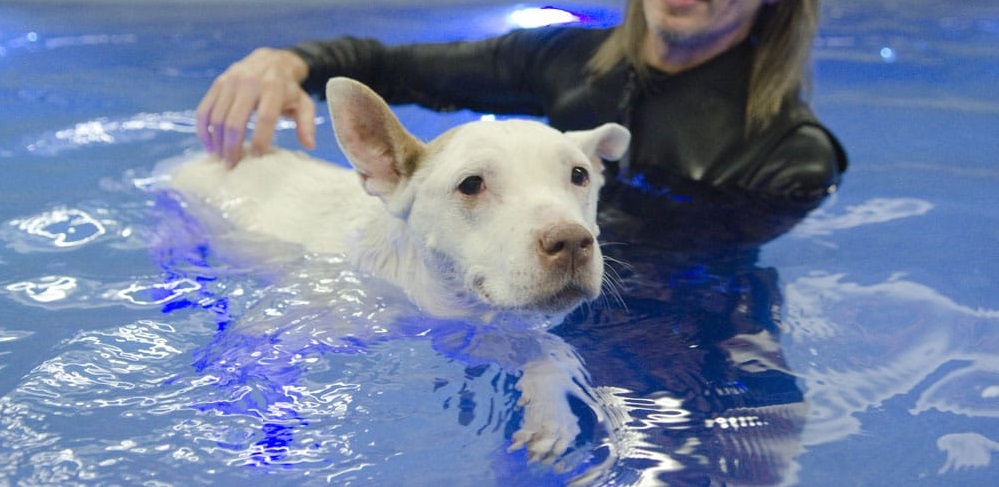 Where in NYC can your dog do Water Therapy? As an expert team of trainers, we recommend Water4dogs located in the Tribeca area. Along with water therapy, they offer other services to help ease the pain of arthritis and hip disease.
Biscuits and Bath offers training classes, private lessons, train-and-play sessions, and home phone consultations with our trainers. Whether you have a puppy, teenage, adult or senior dog, ask our trainers how to prevent injury, stimulate the mind, maintain weight, and build confidence. Our on-site vet partners, NY Vet Practice, are also available to consult on joint and muscle pain/fatigue.