Guide Dog Month By Kristin Sells, Senior Behavior Counselor – CPDT-KA

September is international Guide Dog Month! It is only proper that we write a post in honor of these dogs and their faithful service.
Many handlers will refer to these special dogs as their eyes. I have personally had the privilege of raising five of these dogs, and I am currently raising a black Labrador Retriever for the Guide Dog Foundation for the Blind in Smithtown, NY.
While there are multiple organizations in the United States that provide these dogs to the visually impaired, they all are very similar in the methods used to train and prepare the dogs they breed for their very important jobs. Much research goes into the process of preparing dogs for Guide and Service dog work, with regards to both breeding and training. This article will be referencing the Guide Dog Foundation for the Blind. The Guide Dog Foundation breeds and trains Guide Dogs, and provides them free of charge to people who are visually impaired. Its sister organization, America's VetDogs, provides service dogs for Veterans and first responders. They are non-profit and rely completely on the generosity of the public.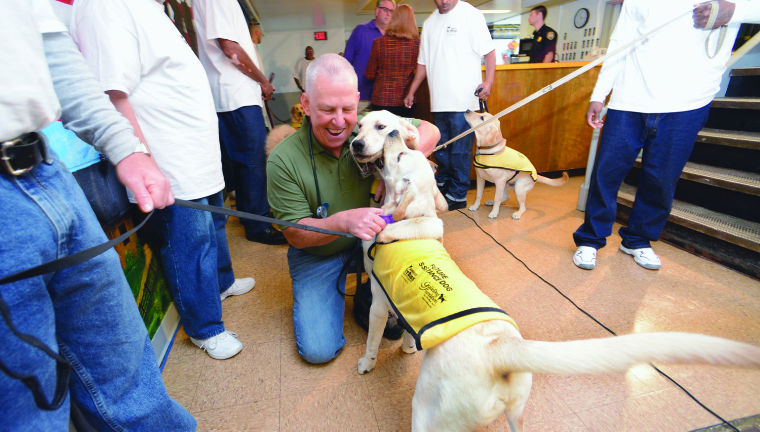 When a dog returns to the Guide Dog Foundation for formal training, it has already been preparing for this moment the entire first year of its life. The journey of a Guide Dog puppy starts well before they are even born! Their parents are carefully chosen from breeding stock produced by the Foundation that are temperament tested as well as thoroughly health tested to ensure they are the cream of the crop. These dogs are mostly Labrador Retrievers, Golden Retrievers, Labrador/Golden Retriever crosses, and Standard Poodles. Much research has gone into the breeds of dog used for service dog work. German Shepherds are another breed used frequently. Which breeds are used entirely depends on the specific Guide Dog School.
Breeder dogs live with families, typically the family who raised them, and have great lives, only being called upon when their services are needed.  I am the proud raiser of a Golden Retriever breeder dog named Levi. He has sired two litters which produced 14 healthy and happy puppies, who will soon begin their formal training as guide dogs and service dogs.
While some Guide Dog puppies are raised and trained then used for breeding purposes, most are on the path to becoming Guide or Service dogs. But who do these dogs live with during their first year? At roughly 8 weeks of age, puppies are ready to go out to their puppy raisers. They have been introduced to many things at their young age, such as different surfaces and sounds in order to prepare them for life as a service dog. A puppy raiser is the term used for the people who open up their home and heart to raise these dogs for the first year of their lives. Dogs are usually returned for formal service dog training with a qualified instructor once they are 14-16 months old. The success rate is approximately 50%. If it is determined that a dog does not want to become a service dog and would rather be a pet, they are offered back to their puppy raiser, or placed on the school's adoption list. Dogs are never forced to work, If you see a working Guide or Service Dog, they truly do love their job. Finding homes for a released Guide Dog puppy is never a challenge. They are extremely well behaved, housebroken, and crate trained. However, they do not come this way! Although these dogs are very well behaved and have excellent dispositions, they do not come potty trained or crate trained, and are just beginning to learn basic obedience when they reach their raiser. It is the raisers job to teach them under the helpful guidance of the Foundation's puppy advisers, who are employed to help puppy raisers with any issues that arise during this process.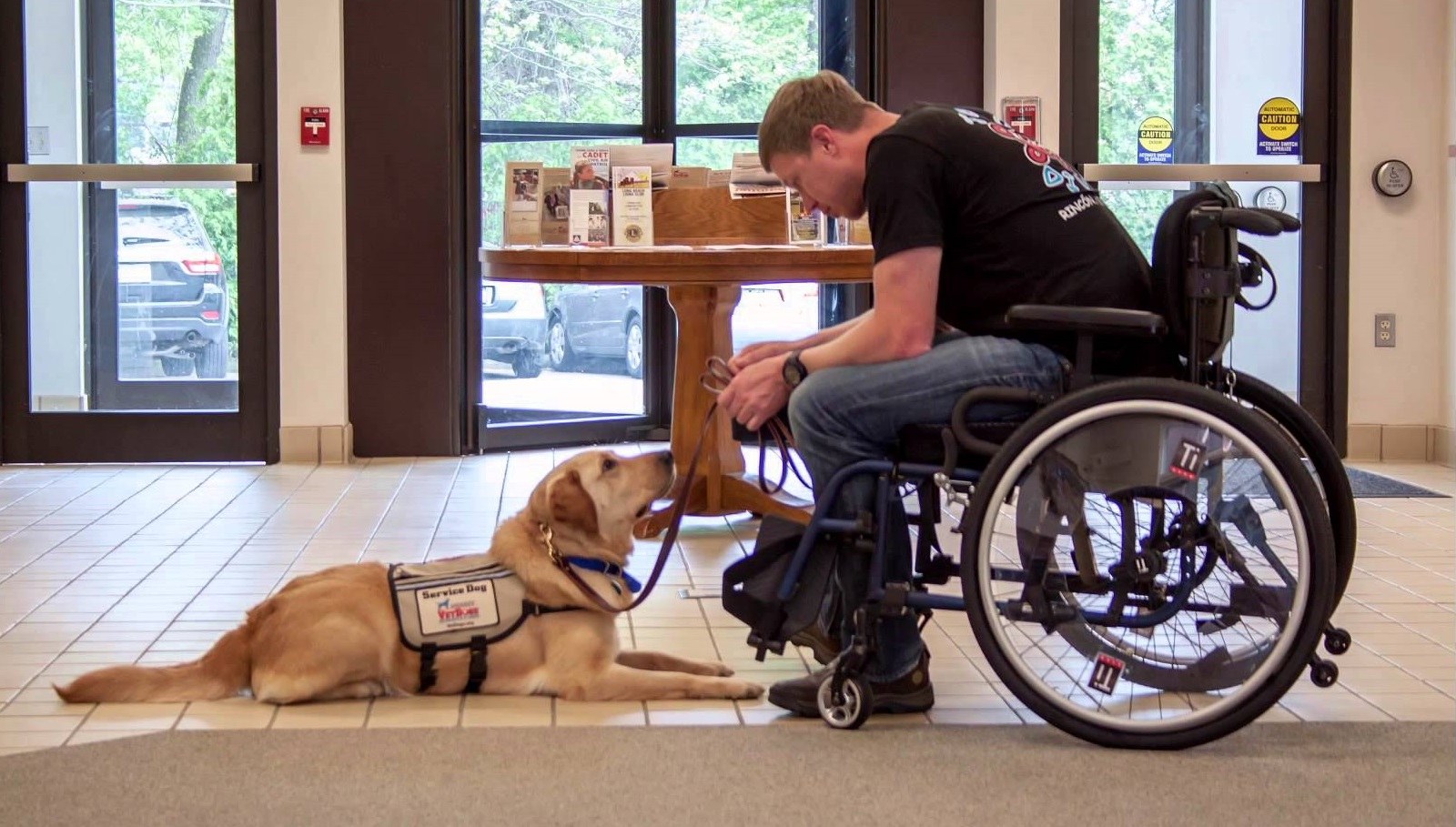 Puppy raisers socialize the dog in every situation possible, in order to ensure that the dog will be able to work with distractions when it goes in for formal training. They also carefully expose the pups to anything that may elicit fear, for example a loud subway station with multiple tracks. Raisers take their dogs to restaurants, movie theaters, malls, and on many different forms of public transportation. Some puppies even accompany the raiser to work! They are all given a "future assistance dog vest" that lets the public know that this is a special dog, with an important calling. Under NY State law, puppy raisers are not granted public access with puppies in training, but are generally allowed the right of passage because of their bright yellow "future assistance dog" vest.  They attend bi-weekly classes with other puppy raisers in their region in order to make sure the dogs are where they should be in their training and socialization process. A lot goes into preparing a future guide/service dog for "college" which many puppy raisers say when they refer to when they send their dog back to the Foundation for formal training, where they work with licensed service dog trainers who prepare them to aid a disabled individual.  It is both a sad time, and a time of celebration. Having raised five puppies in the NYC area, I can undoubtedly say that the number one question I am asked is "how do you give the dog back? I could never do that".  My reply is always the same "Yes you could. Become a puppy raiser and you'll see why".
I've done some pretty awesome things in my life. Two time CUNY Women's Basketball Champion at Baruch college, graduating from US Army Basic training and Army Medic school were all pretty big accomplishments for me. However, at the absolute top of my list, is seeing my Guide Dog puppy "Sarah" with her new handler. As well as my puppy "Dave" who decided the Guide Dog life was not for him, become an incredible pet and therapy dog to one of my best friends. The pride and love I have in these dogs I imagine is unfathomable to anyone that has not experienced this. We put our heart into raising these silly puppies who turn into magnificent adult dogs, who I've been told first hand "He saved my life. I would not be here today if it wasn't for him".
So, with that being said, if you do not have the time or cannot commit to raise a puppy for the Guide Dog Foundation, I will ask you to please support their mission with a donation, no matter how big or small. It would mean the world to me and you'd be helping a wonderful cause. If you are interested in raising a puppy, or making a donation, please go to www.guidedog.org or call (631) 930-9000. If you want to learn more about service dogs, please contact info@guidedog.org.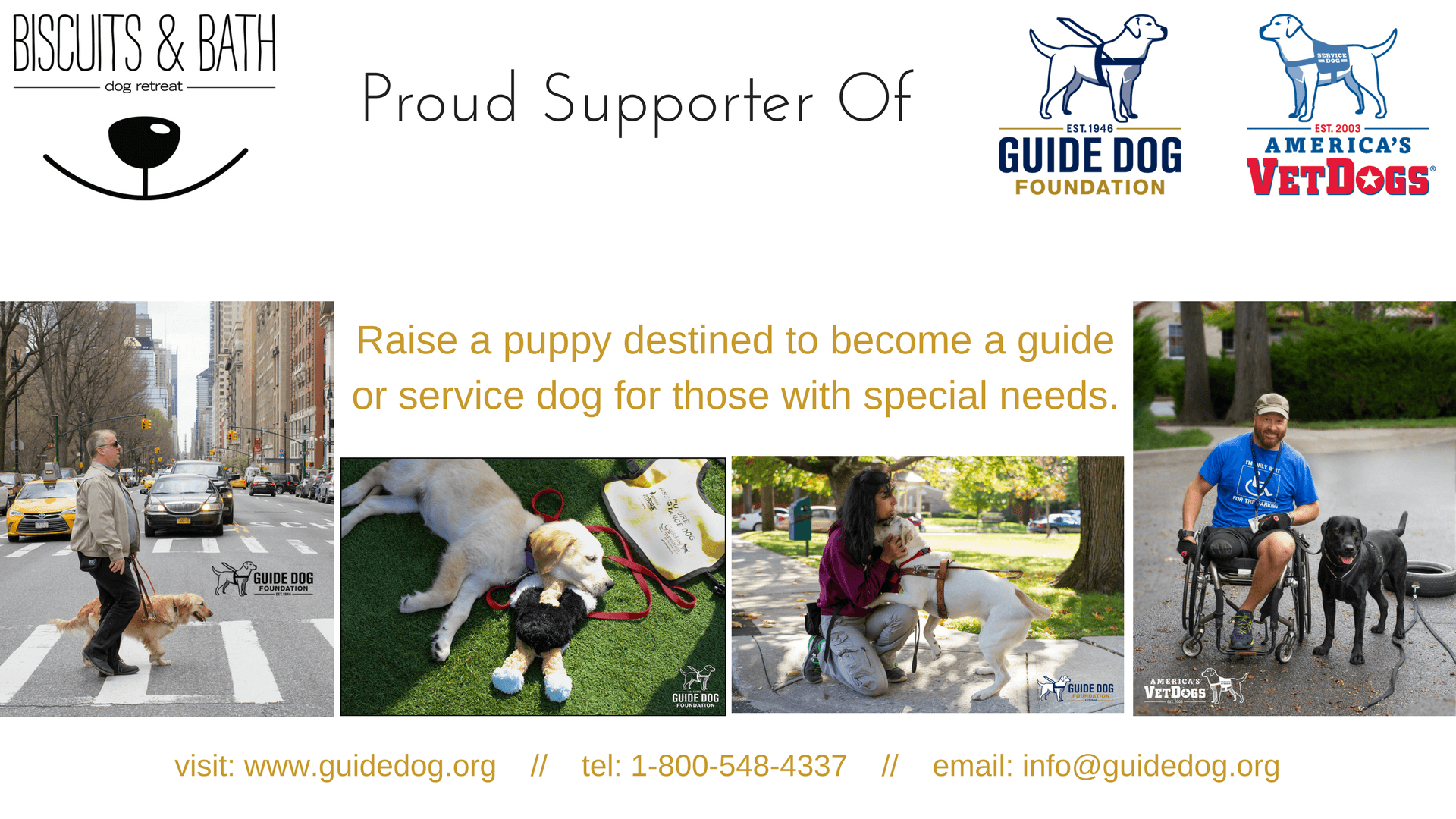 Biscuits and Bath offers training classes, private lessons, train-and-play sessions, and home phone consultations with our trainers. Ask about what is best for you and your dog!