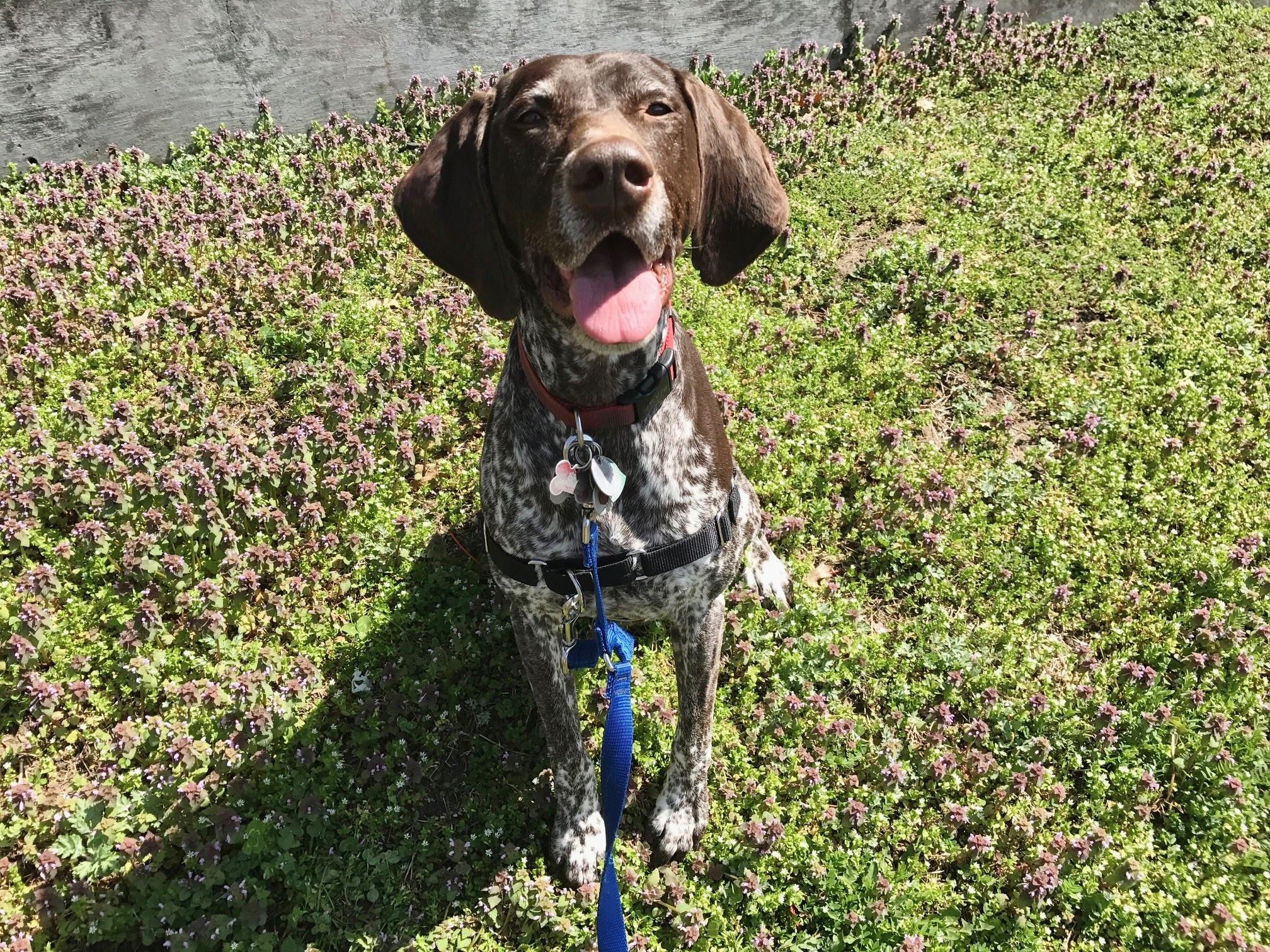 Dog Walking Equipment by Kristin Sells, Senior Behavior Counselor – CPDT – KA

Spring is finally here! It is time to get up, get out and take those pups on a walk through the park! The flowers are blooming and it is perfect weather to practice proper leash manners.
What many people do not realize is that choosing the proper equipment for your dog is the first step to getting a dog to walk nicely on a loose lead. In this blog, we will explore many of the options available at your local pet store and how to know what collar, harness and leash will work best for your pet. As positive reward based trainers, we will give you our recommendations as well as pros and cons of each type of collar and leash.

Collars

One of the most popular collars is the flat buckle collar. This type of collar is great for dogs that do not pull on leash while walking. They also are good for holding identification tags, and are safe to wear all day long. We recommend that all dogs have a buckle collar in addition to any other type of equipment that you walk your dog with. We recommend the metal buckle closure as plastic can warp and break easily. Proper fit of a flat collar is a two-finger fit. This means that you are only able to fit two fingers underneath the dog's collar while it is on their neck.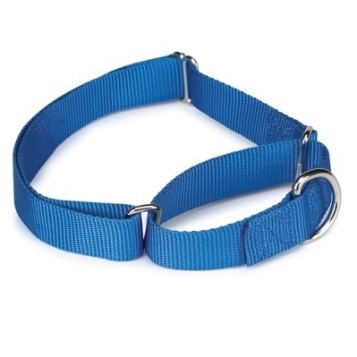 The martingale collar was originally designed for dogs with smaller heads and thick necks, i.e. greyhounds. Its purpose is to prevent a dog from slipping out of their collar. However, it does not effectively reduce pulling. The difference with this collar is that when pressure is applied, the closure gets tighter around the dog's neck. This makes it nearly impossible for a dog to slip out of this collar when worn properly. These collars come in both nylon and chain varieties. The only difference being that with a chain martingale, the dog can hear the sound of the collar tightening upon pulling and becomes conditioned to the positive punishment.  Metal sound equals tightening and possible discomfort.
Given many different names, the training collar or slip collar is another popular collar. This collar is commonly misused and put on dogs improperly. If used inappropriately it can lead to multiple issues. The use of a slip collar is known as negative reinforcement – where a response or behavior is strengthened by stopping, removing, or avoiding a negative outcome or aversive stimulus. In the case of a slip collar, you are taking away the dog's breath in order for the behavior of walking on a loose leash to increase. Once the dog loosens tension on the leash it's airway is restored. This is not a recommended method of training by Biscuits & Bath.  It can also be dangerous if left on a dog that is unattended. Proper wear of the training collar is so that when it is placed on a dog that is facing you, the shape is making a backwards "P". Worn improperly, the collar does not release when pressure is applied. Proper placement of this collar is so that it is sitting at the top of the dog's neck, behind the ears. If the dog is wearing a flat collar, the choke collar should always go above it. When worn correctly, the collar will loosen and tighten as pressure is given and taken. Please consult a behavior counselor before using a training collar, as there is usually a better option available. A slip collar can be used as a secondary safety system if used with a double clasped leash. One clasp is attached to the dog's collar or harness and the other is attached to the slip. We do use a slip collar as a secondary safety management tool with double clipped attachments when transporting dogs from location to location or on walks.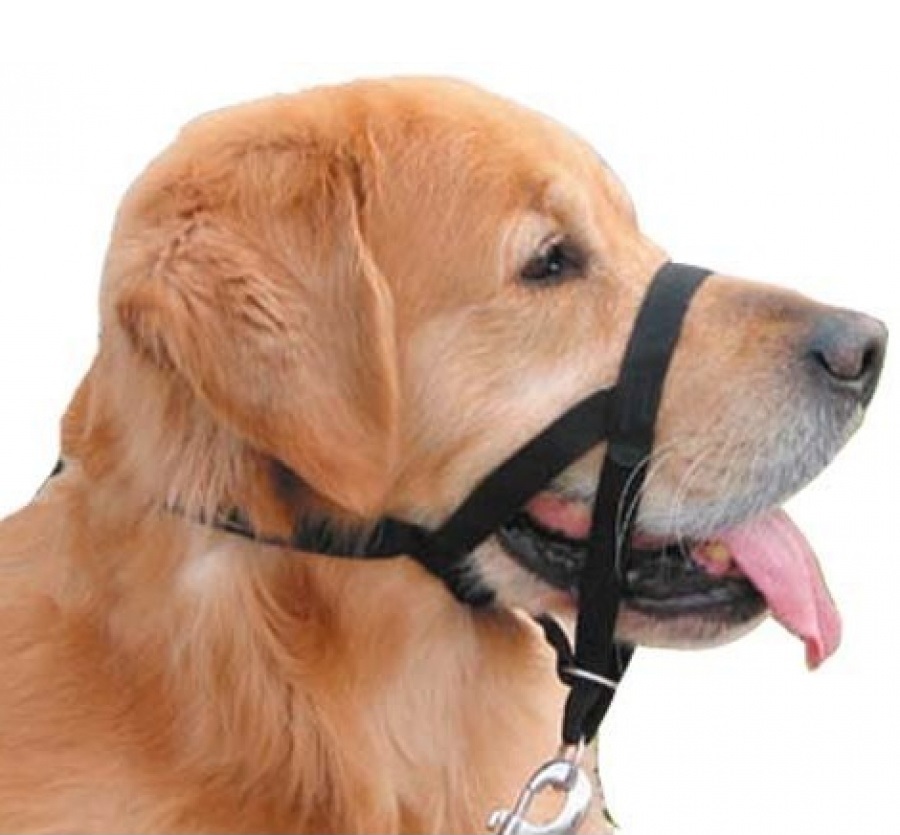 The head collar is a good option to consider if your dog pulls on the leash, is a street snacker, or tends to lunge towards things on the street. This collar is NOT a muzzle. While wearing this piece of equipment; your dog can still eat, drink, and open his/her mouth.  The caveat to the head collar is that it does take most dogs some time to get used to the sensation of the head collar on their snout. To help your dog get used to this collar, you can associate it with positive things like feeding your dog while he/she is wearing it. Taking the time for your dog to get used to this collar is important. So if you do go with the head collar, we recommend short positive experiences when first introducing it and then working your way up to using it for walks. We also recommend to have it attached to your dog's collar as an added safety precaution. Proper wear of the head collar is high and tight for the neck strap using a one finger fit, and the nose piece resting back far enough to allow the dog to open and close their mouth. If you are unsure how to fit your dog with a head collar, please ask a behavior counselor for assistance.
The prong collar, also referred to as a pinch collar, is an aversive training tool that is frequently misused, and for this reason can be very dangerous and potentially harmful to your dog. Before deciding to go with the prong collar, we recommend exhausting all other non-aversive options first. The use of aversive training methods can increase reactivity, cause anxiety and even aggression if used inappropriately. The use of a prong collar in training is called positive punishment. This is when you add something to make a behavior decrease. In the case of the prong, you are adding a sudden jolt of pain to make the behavior of pulling on the leash decrease. Never keep a prong collar on your dog unless you are actively using it. It should come off immediately after the walk or training session has ended. Proper wear of the prong collar is so that it sits behind the dog's ears, and high on the neck. It should be tight enough that it does not constantly slip out of this position, but not so tight that it is painful to the dog if it is not actively pulling. If you feel that you have exhausted all positive options and the prong collar is the only method of training that will work for your dog, please call your behavioral counselor immediately, as positive punishment can exacerbate most behavioral problems if used incorrectly.

Harnesses

The back-clip harness is a good option for dogs that do not pull or for owners that do not fancy the collar concept.  It was originally introduced and made for sled dogs, to make it easy for the dog to lean into it and pull. It is not recommended for use if your dog tends to pull while walking as it can encourage the behavior. It comes in many different types and styles, most created for the comfort of the dog. These harnesses differ in the way that they are put on the dog. Some were created for quick and easy setup, like the step-in version. But the one thing that they all have in common is that the leash attachment sits on the dogs shoulders.  Proper fit and wear of this harness is a one to two finger fit.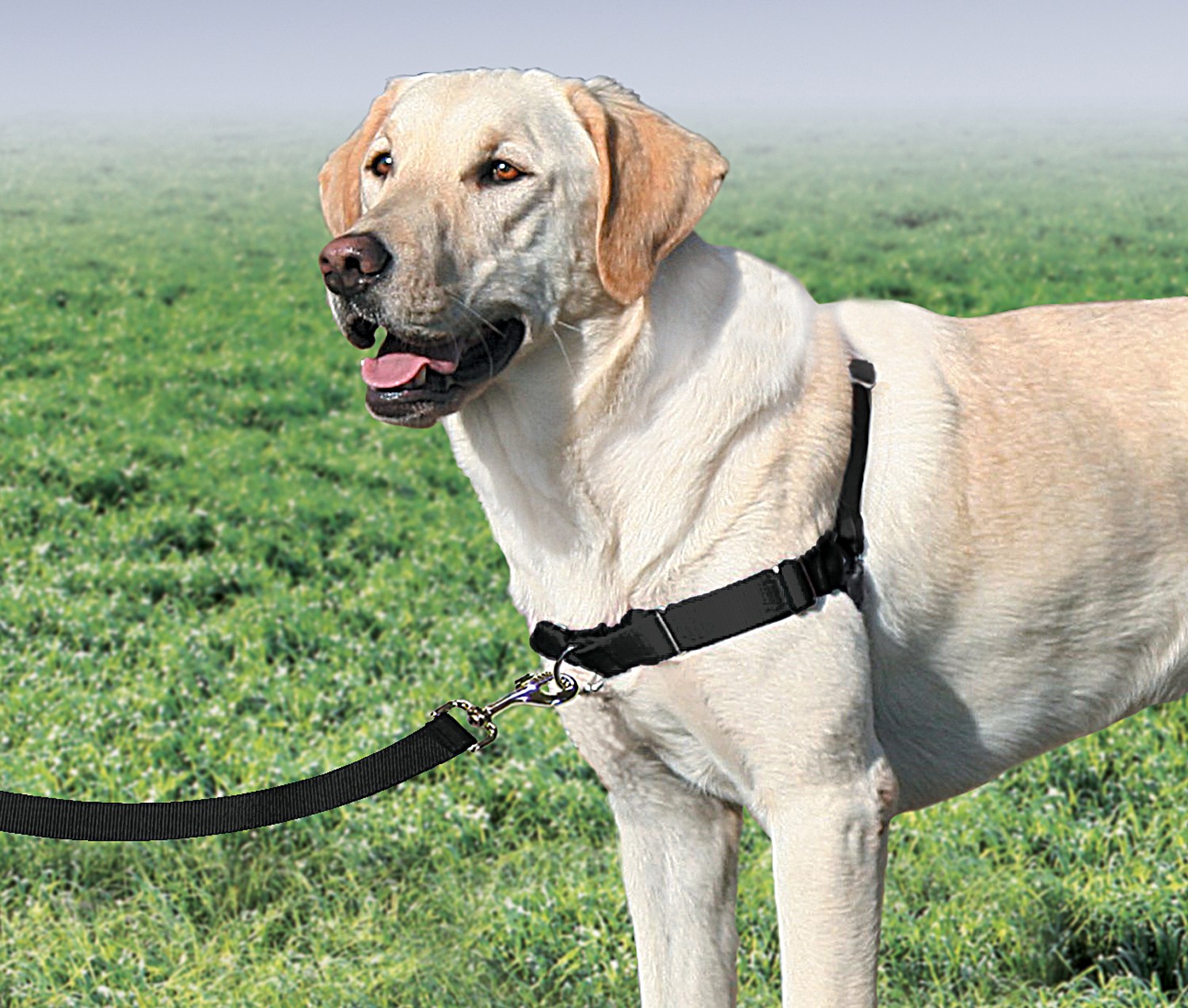 The front clip harness is becoming a very popular body harness. It is one of the options available to owners who are having trouble with their dogs pulling on the leash. There are many different styles and variations. Most traditional harnesses fit around the shoulders, behind the front legs and over the back of the dog. The difference with this harness is that instead of the leash attachment being on the back of the dog, it is in the front and sits on the dog's chest. Proper fitting of any harness is a one to two finger fit. We recommend that the harness be clipped to a collar as a secondary safety system since some dogs can get out of it. This can easily be accomplished with a carabiner. If you are unsure how to do this, please consult a behavior counselor for assistance.
The balance harness or freedom harness are harnesses that we often recommend. Its popularity seems to be due to the flexibility of leash attachment options. With a back clip and a front clip, this harness is versatile, and can be clipped to both the front and back for training and simultaneously for added safety.

Leashes

Leashes should be thought of as a tether between dog and handler.  Their purpose is to keep your dog safe and we recommend your dog be on a leash at all times when not in your home or a securely gated area. It is actually the law! Too often in dog training, we see people using the leash in a manner that is not ideal.  For example, a leash jerk or correction as a positive punisher should be avoided unless all other methods have been exhausted. We recommend first trying positive reinforcement methods before moving to aversive techniques and tools. Something that is also important to note when walking your dog is how you are holding the leash. What are you telling your dog by the way you are holding the leash?  Are you pulling your dog, and is your dog pulling you? Dogs have what we call opposition reflex. This means that whatever direction you pull your dog; they will pull in the opposite direction. Without realizing it, we can be telling our dog to pull us! Adding to this point, dogs can feel our emotional state through the leash because a lot of times we reflect that feeling by tightening up and loosening up our grip. We have seen dogs react aggressively to other dogs on leash partly due to the owner feeling nervous or agitated and tightening their grip on the leash in the presence of another dog. If you think that this may be happening with you and your pooch, ask for help from a dog behavior counselor.
The most common type of leash that is seen is the standard 4ft – 6ft leash. These come in many different varieties and types. Including but not limited to – nylon, leather, paracord, rope, even chain to discourage biting. There are also various attachment styles – snap hooks, quick release hooks, and carabiners to name a few. These are great for the urban environment, and are a good option for everyday use and training.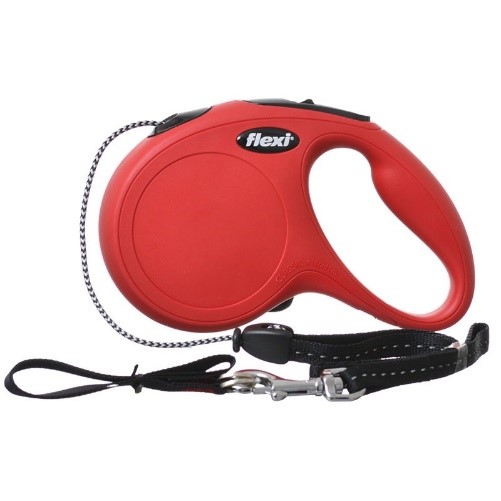 Flexi leads are a type of retractable leash that are wound around a spring-loaded device that is housed inside of a plastic handle. It can extend to different lengths depending on which variety and size you purchase. We do not recommend flexi leads. The downside to using these leashes is pretty overwhelming as they can be very dangerous and have caused injures to both pet and owners. When using the lead, the handler has limited control in an emergency situation. A dog could potentially enter unsafe environments like ongoing traffic or approach an aggressive dog without warning and even trip pedestrians. The cord can snap while the walker or dog can get tangled. NYC law states that all dogs should be on a leash no longer than 6ft. Holding the device is also clunky and makes training on leash difficult for the handler.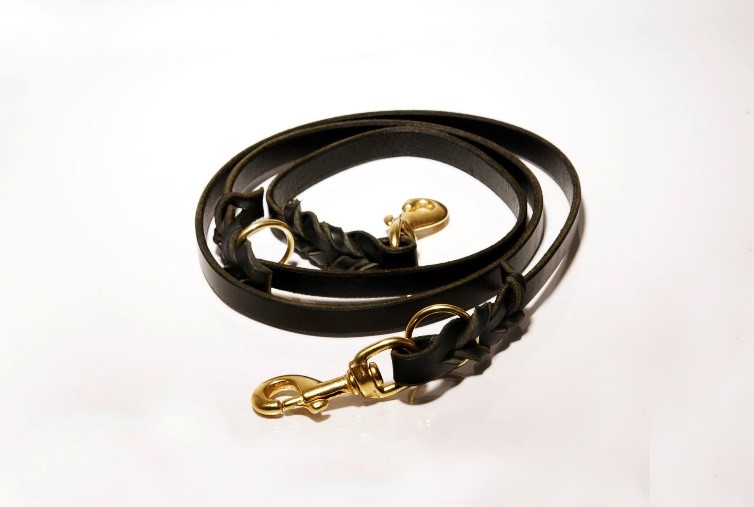 Convertible over the shoulder leads or double clip leads are a great option for the urban environment for added safety and a back-up in case your leash fails. These leashes have two claps for attachment to either a collar or harness, or for attachment to itself in the case of being used as an over the shoulder leash. These leashes come in many different styles and types, most created for use with working dogs and service dogs.
The slip lead is the term used for a one-piece collar/lead combination.  These come in leather and rope varieties and are widely used for their simplicity in vet offices, daycare and grooming facilities. Slip leads are most commonly used in shelter environments to easily and swiftly secure dogs with limited handling.  These leashes offer a quick way of tethering a dog that may not be wearing a collar. Slip leads are not recommended for everyday use, especially in the urban environment. They can easily come off,  because, when worn properly they tighten and loosen as pressure is given and taken. Similar to a training collar/slip collar, this leash should be put on using the reverse "P" method mentioned earlier.
This concludes our recommendations when it comes to dog walking equipment and their uses. For inquires, call (212) 419 – 2500 to book a phone consultation with one of our trainers.